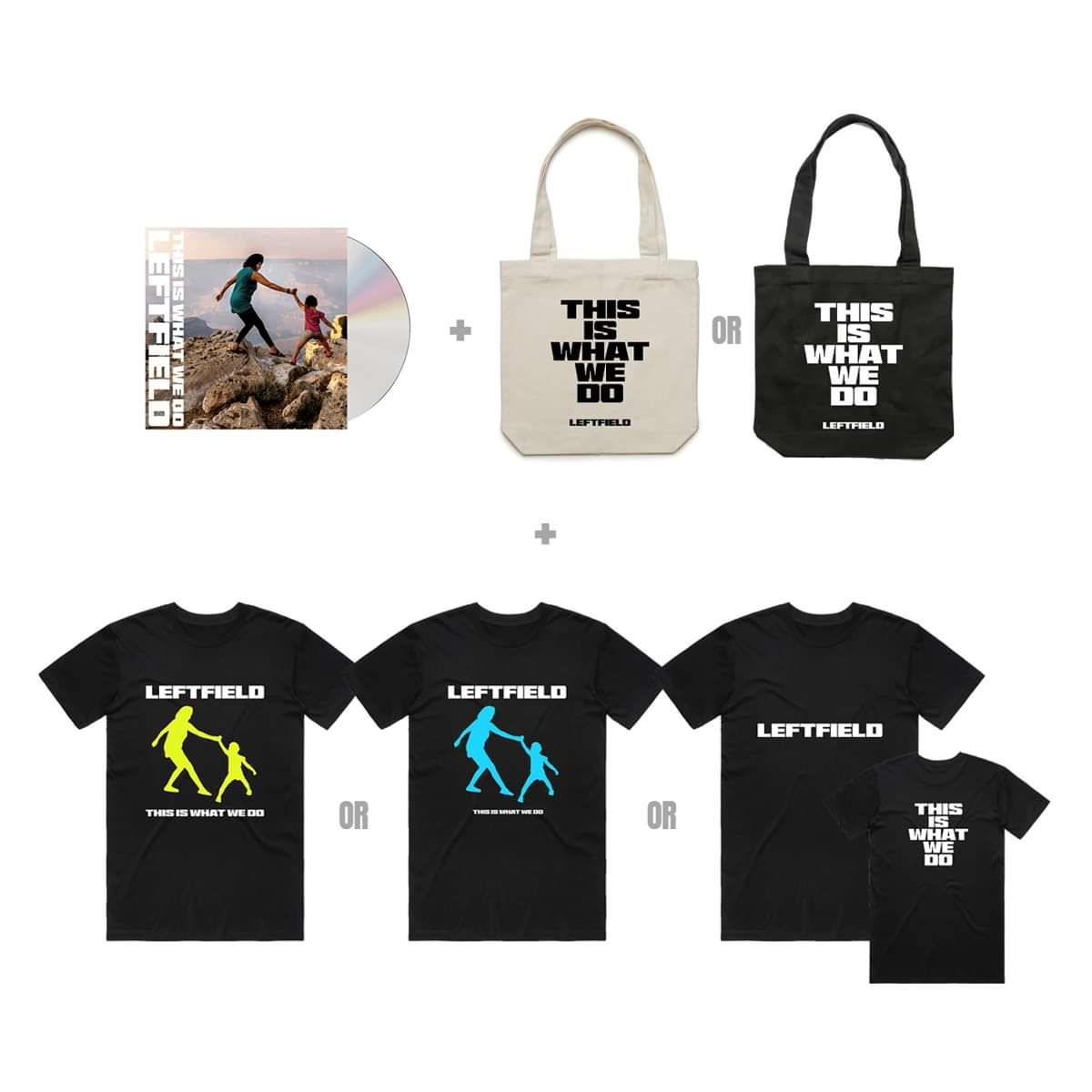 CD + T-Shirt + Tote Bag Bundle
Official Leftfield Merchandise.
This Is What We Do – CD, plus select a t-shirt, and tote bag.
T-Shirt: Description: 100% Softstyle Cotton Tee
Tote Bag: The woven tote bag is cut in premium 300gsm 80% reclaimed cotton, 20% recycled polyester and features clean and reinforcing finishes. 37 x 43cm.
CD: This Is What We Do is Leftfield's first album of new music since 2015's acclaimed Alternative Light Source, and is set to be released via Virgin Records on December 2. The album was crafted with long-time studio and mix engineer Adam Wren, and features guest contributions from Fontaines D.C. frontman Grian Chatten, Lemn Sissay and more. The album cover is a shot taken by lauded photographer Steve McCurry, whose work includes the celebrated photograph Afghan Girl. This cover image is a marked departure to previous Leftfield album imagery, chosen to reflect the warmth and positivity of the album and to celebrate the connections that we make with others throughout our lives.
This Is What We Do, is an eclectic long-player that embodies the core optimistic ethos of the iconic dance music act. Exploring themes around love, acceptance, diversity and healing, the album was written before and after two extremely challenging and transformative periods in the life of Leftfield's Neil Barnes.
Honest, forthright, unapologetic and unique in its aesthetic, the new album marks another milestone in Leftfield's timeline. A continuation of their lineage, which can be traced back to 1989, This Is What We Do is a bold counterpoint to the self-conscious cookie-cutter dance music that dominates the current landscape. Vibrant, full of positivity and alive with sincere emotion, this is electronic music in its purest, most rebellious form.
This Is What We Do
Full Way Round
Making A Difference
City of Synths
Pulse
Machines Like Me
Rapture 16
Heart and Soul
Accumulator
Come On
Power of Listening